Representation of color
The representation of color is desirable to be concise for severely visually impaired. In the system, the color is represented by the tone and color name of the PCCS color system. In addition, the tone is integrated to 7 tones and the color is integrated to 12 basic colors. Chromatic color is represented by the tone and the basic color name. Achromatic color gray have modifiers "dark, light, (none)". White and black don't have modifiers.
 Chromatic color 

 Achromatic color

 

Tone

Basic color

 MOdifier

Basic color

  vivid

 

red
 yellow
green
blue
  purple
brown
orange
pink
beige

 dark

 

gray 

bright

 pale

 deep

 

(nothing)

 pale

 

 

 

 

 

white

black

 dull

 grayish

dark

(nothing)
<Examples> vivid red,deep blue,brown,beige,dark gray,gray,white,black・・
Next figure illustrates the concept of the tone. Color is represented by three elements, brightness, saturation, hue in typical color systems. Tone represents the brightness and saturation at the same time. The PCCS color system is represented by the tones and the basic colors (hue names).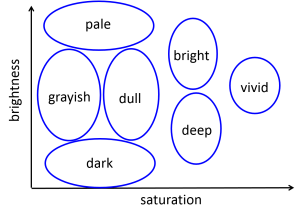 *PCCS color system: Practical Color Co-ordinate System(Nihon sikiken haishoku taikei)was developed by Japan Color Research Institute Foundation to solve the color harmony problem systematically as the main purpose. The color system was announced in 1964.
Representation of pattern
Classification of the pattern is "vertical stripes", "horizontal stripes", "checker", "plain color" and "other pattern." "Other pattern" is irregular picture pattern, regular picture pattern, character pattern and other all patterns.