The app supports Japanese, English and Turkish.
Color will enrich human mind. Clothes is a self-expression of people who wear. And, also represents the personality. The color of clothes is also important for people with no vision.
- People who are visually impaired is able to select their own clothes and to go out ―
App author has studied the engineering system to achieve it.
This system is incorporated to the smartphone in order to be used easily. This is the App "Examine Clothes Color" for the iPhone. I hope many people will use this App and be useful for them. In this site, I will explain how to use the App. Also explain the representation of color and pattern, voice output, and the evolution of the system.
2016.1.26  Masao MIYAKE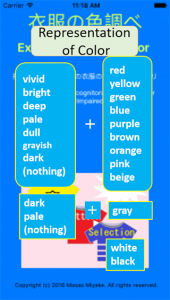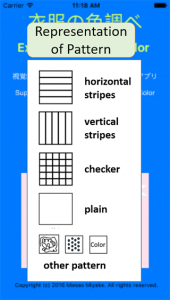 App News
2016.5.4  — Ver. 1.20
English was specified to the primary language because the iPhone users in the world can use this App.
In the iPhone Settings → General → language and region, change the iPhone language to English. So you can experience the English version.
2016.5.10 – Published in YouTube.
The official web site of the NPO project YUAI (Matsue City, Shimane Prefecture), in the Smile Emi of the May issue, the video of this App has been published on YouTube.
<External link>
The Emi Smile of the May issue(Video by Japanese)
2016.6.2 – This App was introduced in Braille Mainichi No.917.
The introduction article of 'Examine Clothes Color' App was published in Braille Mainichi of the Mainichi Newspapers.
2017.3.7 – This App was introduced in AppleVis (Accessibility Information Exchange Site). AppleVis
2017.5.12 – On AppleVis, this App was nominated for "Vote Now for the 2017 Inductees into the Apple iOS App Hall of Fame". We have entered 9 cases selected from hundreds of Apps for the visually impaired people developed in the world. Vote Now for the 2017 Inductees